Ordering High-Resolution PRISM Data
All PRISM data is available at 800m resolution, but this finer resolution is free of charge only for the 30-year Normals. The images below show the effects of using 800m data, which is "licensed" for use subject to the constraints of our sponsoring agency.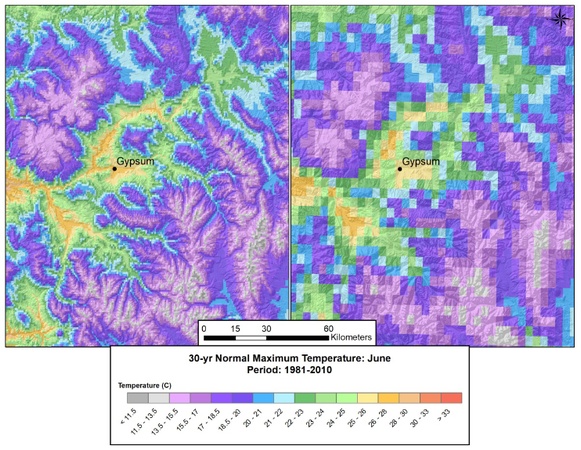 Comparison of mean June maximum temperature in western Colorado at 800m resolution (left)
versus the coarser 4km resolution available free of charge (right).
800m data is provided in BIL format for the conterminous US only. We are unable to clip out geographic areas, or supply other GIS services. For more information on data formats, the timing of data updates, etc., use the FAQ tab at the top of this page.
We normally sell only "stable" data (i.e., after 6 months have elapsed) since station networks are likely to continue revising their observations until that point. If you have a special need to receive "first-look" or "provisional" data, please contact us at prism_orders@nacse.org.
Versions Available: PRISM 800m data are available in three versions (see PRISM datasets for details)
daily time series (AN) based on observations from all networks; available from 1981 onward
monthly time series (AN), based on all networks; available from 1895 onward
alternate version of monthly time series (LT), based on long-term stations of record only; available from 1895 onward; note that LT data is only produced at 800m, so there is no analogous 4km version on this website
Variables Available: 800m datasets are sold in calendar-year units (12 monthly grids plus annual averages, or 365 daily grids plus monthly and annual averages). Select one of these sets of climate variables:
Basic variables: precipitation, maximum temperature, minimum temperature, and mean temperature
Humidity variables: precipitation, mean dew point temperature and minimum/maximum vapor pressure deficit
All variables: all seven climate variables (costs considerably less than purchasing the two sets individually)
Restrictions on Data Use: Unlike the 4km data, 800m data may not be redistributed or shared with others. In "purchasing" 800m data, you are actually purchasing a license to have and use a single copy of the data. Redistribution or copying is not allowed under the terms of our sponsor's funding arrangements, nor may a university or agency purchase a "site license." (See Pricing Structure for special arrangements if you have a research collaborator who needs access.)
In addition, the general PRISM terms of use apply. Note that commercial use is strictly prohibited unless you have made special arrangements in advance.
Dataset Size and Delivery: Datasets are organized by climate variable, with subdirectories containing the files for each year/month/day. All files needed for BIL are included, along with metadata and station listings. The datasets are large, and with one exception (see bullets) require delivery via USB3 portable hard drive. Clients may choose to provide their own USB3 drive or have us purchase it on their behalf.
Total file size varies dramatically depending on the time resolution, number of variables, and time period requested. Some general rules of thumb:
Monthly data occupies less than 1TB; orders for 1-10 years are usually fulfilled online (downloadable form)
Daily data for 4 variables is typically 1-5TB, depending on the timespan involved
Daily data for all 7 variables is 2-10 TB, again depending on the timespan
Pricing Structure: Currently we offer 800m datasets at academic prices that are far below the actual cost to produce the data. By university policy, we must charge all customers the same rates. The only exception is a "research collaborator discount", available if a purchaser works directly with another researcher who needs access to a copy of the same data.
The charges depend on whether this is the first time you are purchasing 800m data, you are a repeat customer who needs additional years or variables, you need a second copy for a research collaborator, or you wish to subscribe to all updates (which become available on a daily basis).
First-time purchasers pay a base cost of $2000 for the basic or humidity variables, or $2400 for all 7 variables. Repeat customers wishing to acquire additional data receive a deeply discounted base rate ($250).
There is an incremental charge for each year of data required. If just the basic or humidity variables are needed the incremental cost charged for each year requested is $25 for monthly data ($250 for daily). For all 7 variables, the incremental charge is $30 for monthly data ($300 for daily) for each year.
If a customer purchased 4 variables but now wants the additional variables to complete the set, they will be charged as though the original order had included all 7 variables (discounted base cost plus 20% of the original amount).
You may have research collaborators working in other departments or locations, but the terms of your purchase do not permit the duplication or redistribution of the data. If a collaborator needs access, you can purchase rights to an additional copy for the discounted base cost plus 20% of the original amount.
A customer who already purchased the full set of daily data (since 1981) may want immediate access to all further updates (including "provisional" data). This services is available through an annual subscription. For $2000/year, you will receive a dedicated URL to a webservice that allows you to download the most recent data at any time.
Additional Charges: Additional fees apply for shipping or purchase of external hard drives. If desired, we will purchase the needed hard drive(s) for $100 per 4TB of data requested; alternatively, the customer may provide the drives (must be USB3). Shipping and handling is a flat charge of $50.
Ready for a quote? To receive a non-binding price quote, submit a PRISM 800m Data Quote Request.
Questions about Ordering Data? Contact us at prism_orders@nacse.org.